Technology
We utilize the latest technologies available in order to tackle the most challenging grinding jobs in any industry.
Exotic Materials
We are experienced in grinding of various exotic materials. Silicon wafers have ground flats in order to orientate the crystal structure. Grinding them requires not only superabrasive wheels but also a machine that can interpolate the workhead and x-axis.
ID/OD Grinding
Experienced in grinding of various ID and OD jobs in single clamping. Grinding of internal and external diameters in a single setup provides the base for a perfect concentricity between the two diameters. The three point steady rest guarantees suburb run out characteristics.
We have been using a special 3-point steady rest method for years to grind these spindle shafts. This method guarantees a minimal run out between the OD and ID.
Internal Grinding
Leader in complex internal grinding applications. Internal grinding can take on various sizes and shapes as seen here on an internal cam ring.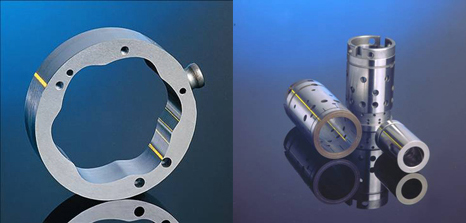 Internal grinding applications like these require experience and the appropriate equipment to get the job done! The physical aspect of internal grinding are very different from external grinding especially the contact area of the wheel to part.
Out-of-Round Grinding
Combining leading-edge software with high precision c-axis interpolations to grind non-round parts.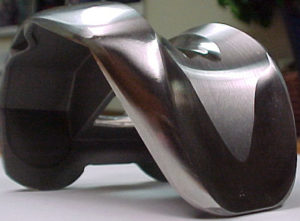 Thread Grinding
Various thread grinding applications including internal threads.
By utilizing the latest software we can generate single rip or multi rip wheel profile in order to economically grind a large variety of external and internal threads.